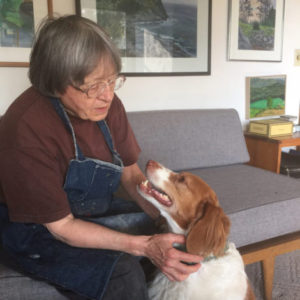 Eunice Agar is an expressive realist painter of landscapes and genre figurative subjects. She has painted on location in western Massachusetts, Maine and Florida, and on trips to Greece, the Tyrol in northern Italy, and Mexico. Her media are oil, watercolor, casein (a water based paint), drawing in pencil, charcoal and ink, etching and block printing.
Ms. Agar lives in Gt. Barrington, MA where she maintains a studio and has spent over twenty summers in Jonesport, Maine. Monhegan Island, the bay of the Narraguagus near Milbridge, the shorelines of Jonesport, Beal and Great Wass Islands, and the Blueberry Festival in Machias are favorite subjects. A painting from her Monhegan series is in the permanent collection of Bates College.
Ms. Agar has had solo shows at Denise Bibro Fine Art in New York City, the Agnes Ainilian Gallery in Washington, DC, the Albany Institute of History and Art, the University of Maine in Machias, and Le Moyne Art Center in Tallahassee among others. Early in her career she was managing editor and later contributing editor for American Artist Magazine for which she wrote interview articles on other artists. She has also taught painting, drawing and etching. She has a BA in art history from Wellesley College and studied painting, drawing and printmaking with Jean Liberte, Robert Beverly Hale, and Edmond Cassarella at the Art Students League of New York.